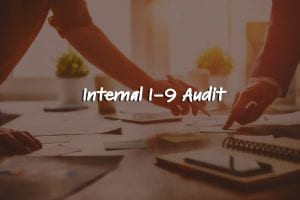 The Immigration Reform and Control Act of 1986 (IRCA) forbids U.S. employers from knowingly employing people who are not authorized to work in the United States. The IRCA also prohibits employers from employing individuals without using Form I-9, Employment Eligibility Verification, to verify their identity and legal authorization to work.
To ensure employers are complying with the IRCA, U.S. Immigration and Customs Enforcement (ICE) carries out investigations throughout the year. The number of audits is up, as are the amounts of fines for noncompliance. Given this increased scrutiny and penalty, employers must make sure they are following I-9 verification requirements. Here's how to double-check.
1. Gather I-9 forms on current and terminated employees.
You'll need a list of all employees hired after the IRCA took effect, which is Nov. 6, 1986. The list should include not just current employees, but also former employees who left the company within the last three years.
Note that you should not have I-9 forms on nonemployees, such as volunteers and independent contractors.
2. Obtain Form I-9 for employees who do not have one on file.
Maybe you lost an employee's original Form I-9. Or maybe you failed to obtain the form. Either way, let the employee know you are sorry for the oversight, but you cannot keep him or her on staff without the form, as it is required by federal law. Give the employee a reasonable deadline to submit the required documents. Be prepared to terminate the employee if he or she fails to deliver proof of eligibility to work in the U.S.
3. Check all I-9 forms for errors and omissions.
You will need to go through all the different sections of the form to ensure they are accurately filled out plus verify that you have the right supporting documents.
For instance, make sure the employee properly filled out and signed Section 1 of the form. Then, verify that Section 2, which must be completed by the employer, shows the appropriate supporting documents. Go over Section 3 if the employee was rehired or his or her work authorization expired. As you come across errors, consult the USCIS Handbook for Employers for guidance on how to correct them.
4. Correct the necessary E-Verify errors.
E-Verify is a web-based government system that allows enrolled employers to confirm the eligibility of their employees to work in the United States. E-Verify employers verify the identity and employment eligibility of newly hired employees by electronically matching information provided by employees on the Form I-9 against records available to the Social Security Administration (SSA) and the Department of Homeland Security (DHS).
Typically, employers cannot use E-Verify for existing workers. However, if you inadvertently failed to create an E-Verify case for an employee, you'll need to do so right away in order to bring your business into compliance.
The key is to make sure everything is properly documented and filed so you'll be prepared should ICE come knocking.
© 2018