Payroll Processing
So quick and simple you'll forget it's complicated.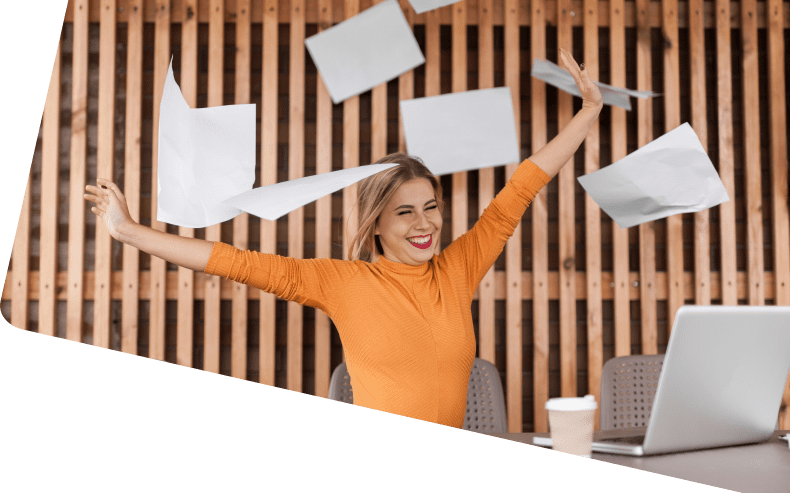 You're a business owner, not a payroll expert. We are. Simplify your workload and have more time to manage your business when you partner with us. Since 1989, we've specialized in full-service payroll processing services for small- to medium-sized businesses ranging in industry and unique needs.
Receive exceptional one-on-one support from your own dedicated Customer Services Representative when you work with us, ensuring that you'll never get shuffled around and will always speak to a real person.
We take pride in the care we give to each client, building relationships based on trust and backed by years of experience. When you work with us, your employees are paid correctly and on time—always.
Payroll Management puts the personal back in payroll.
Let us handle the demands of payroll processing for you:
Do payroll your way. You can call in, email, fax or use online options to provide payroll information weekly, bi-weekly, monthly, or whatever suits your schedule.
Save time spent processing payroll, payroll taxes, payroll reports, and checking for errors.
Avoid penalties due to miscalculations.
Get direct deposit plus electronic federal and state tax deposits.
Access 401K interfaces.
Receive tip allocation for IRS.
Get prompt year-end W-2 preparation.

Receive income and employment verification services for your employees at no additional charge.
Tax Services
A critical component of payroll is complying with the ever-changing IRS tax laws and filing requirements. Payroll Management assumes responsibility for both the timeliness and accuracy of all tax deposits and filings. Through a complete payroll tax filing service, we electronically balance our tax accounts on a daily basis to ensure that your tax deposit is received in a timely manner.
Reporting and Filing Services
In addition to business management reports, Payroll Management provides specific reports to monitor payroll activities.
Deposit Federal withholding, FICA, FUTA, State withholding, SUI and disability taxes
Prepare and file 941/940 Federal quarterly returns with the IRS
Prepare and file quarterly State and local withholding tax returns
Provide and file 1099M forms (employee and employer copies)
Prepare all W-2's and file with the Social Security Administration
Generate quarterly and year-end reporting
File year-end tax forms, with copies provided to you for your records
FICA tip credit
Summary reports
New employee filing with the state
Labor distribution report to track employee hours by centers
Workers' compensation pay-as-you-go reporting
Paperless Solutions
My Payentry Portal is the paperless environment for employees of clients using Payentry to log in to their dedicated ESS portal and view/retrieve paystubs (personal earning statements), and W-2s. For clients who do not use Payentry, we offer a secure file portal with a unique login for each employee. Save time and the environment with paperless payroll solutions.
Payentry offers technology that makes payroll simple—a powerful processing engine, and the most intuitive workflow and user experience. Our latest release, NextGen, makes the Payentry platform even faster, more integrated, and easier to use.
Online Employee Self Service (ESS) portals are valuable to both your HR team and your employees. When you empower your employees with My Payentry, they will be able to access what they need, where and when they need it, all online.
Not using Payentry with Employee Self Service (ESS)? No problem, we offer secure digital delivery through FileGuardian, a part of Swipeclock. Save time and the environment with paperless payroll solutions.
Payroll Reports
Payroll Management provides a variety of payroll and management reports to help organizations manage their business and make informed and thoughtful decisions. The management reporting services we provide include the following:
Basic Payroll Reports
Payroll Register
Labor Distribution
Payroll Summary Report
Personal Earnings Statement
Payroll Reports
3rd Party Sick Pay
Active Employees Not Paid
Agency Check Listing
Calendar
Check Register
Code Listing
Delivery Detail Report
Detail Calendar Setup
Direct Deposit Report
Direct Deposit Setup Report
Employee Deduction Listing
FICA Tip Credit, Tip Allocation
Goal Status
Input Worksheet
Invoice
MTD QTD YTD Report
Payroll Register with YTD
State Workers' Compensation
Statement of Account
Tip Allocation
Tip Sign Off
Workers' Compensation – Gross wages by employee listed and totaled by job category. Calculates workers compensation premium based on straight time gross wages
Year to Date Report – The standard list includes gross wages, taxes, overtime, hours and dollars
Tax Reports
FICA Variance
Local State Variance
Head Count Tax
Statement of Filings and Deposits
State SUI Report
Taxable Wage Report
Tax Liability Variance
Tax Liability vs. Deposits
W2 Edit Report
Human Resources Reports
401k Report
Accrual Activity
Accrual Balance
Accrual History
Compensation Detail
EEO-1 Employment Data
Employee Change Listing
Employee Labels
Employee Listing
Employee Profile
New Hire Info
Termination Listing
Premium Product Reports
Certified Payroll
Employee Review
Employee Skills
GL Journal Entry
GL Rules
Job Costing Report
Multiple Worksite Report
Simple GL Export
Simple QuickBooks Export
Hiring & Onboarding
Integrated Hiring & Onboarding with Payentry GetHired
Growth, turnover, seasonality, there are many reasons you may be hiring and onboarding employees. Managing the hiring and onboarding process can be a significant amount of work. Mistakes may lead to increased costs and further complexities. When hiring and onboarding is directly linked to your payroll system, you can leverage integrated background checks, E-Verify, Work Opportunity Tax Credit (WOTC) screening and submission features, and more. Payentry GetHired provides hiring and onboarding tools that help you stay above the fray and focus on finding the right talent for your business.
Features
Easily post jobs to multiple job boards
Use a searchable resume database to find and manage applicants
Automatically schedule interviews with candidates
Complete onboarding documentation in a paperless environment, fully integrated with your payroll system
Seamlessly move new hires into your system as employees

Getting started is only a conversation away.

Payroll Management, Inc.
550 Center Street STE 1210
P.O. Box 1837
Auburn, ME 04211-1837