Careers
We understand that flexibility and work-life balance are essential ingredients of employee satisfaction and a strong culture.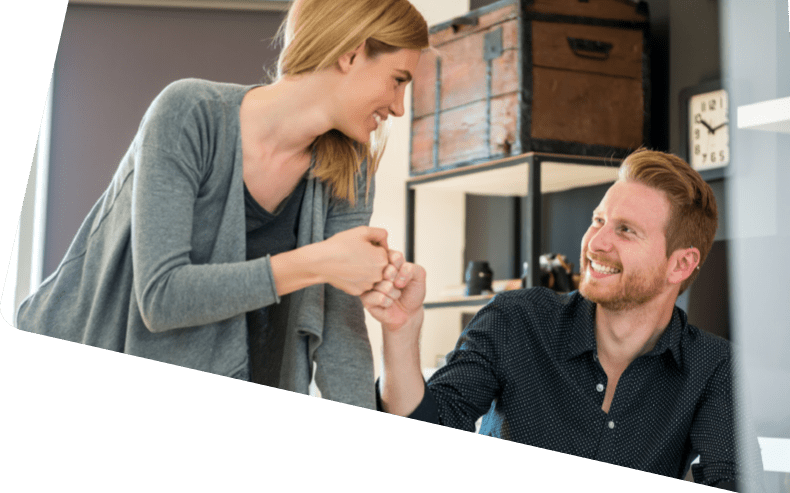 Family-owned, Work Family Included!
Payroll Management is a family-owned company since 1989, known for our customer-focused support and tight-knit company culture. We are real people, offering really great service, looking out for one another, and always growing in our skills and knowledge.
We offer flexible schedules, full benefits packages, respect, and a family-oriented, low-stress environment. Most positions are based in-person at our Auburn, Maine headquarters.
Our Core Values
Be Solution Finders – If it's a problem for our clients, it's a problem for us. We have the resources, knowledge and experience to find answers.
Practice Benevolence – We take care of community, clients and each other for the greater good of all.
Empower Each Other – Our employees are what make this company great; they are our biggest asset and have the power to make us better.
Deliver Quality – Exceptional customer service at is the heart of who we are and what we do.
Fake job postings have been circulating on social media falsely claiming association with our company. We do not offer remote positions at this time. To ensure job postings are genuine, only use our official website or trusted job boards.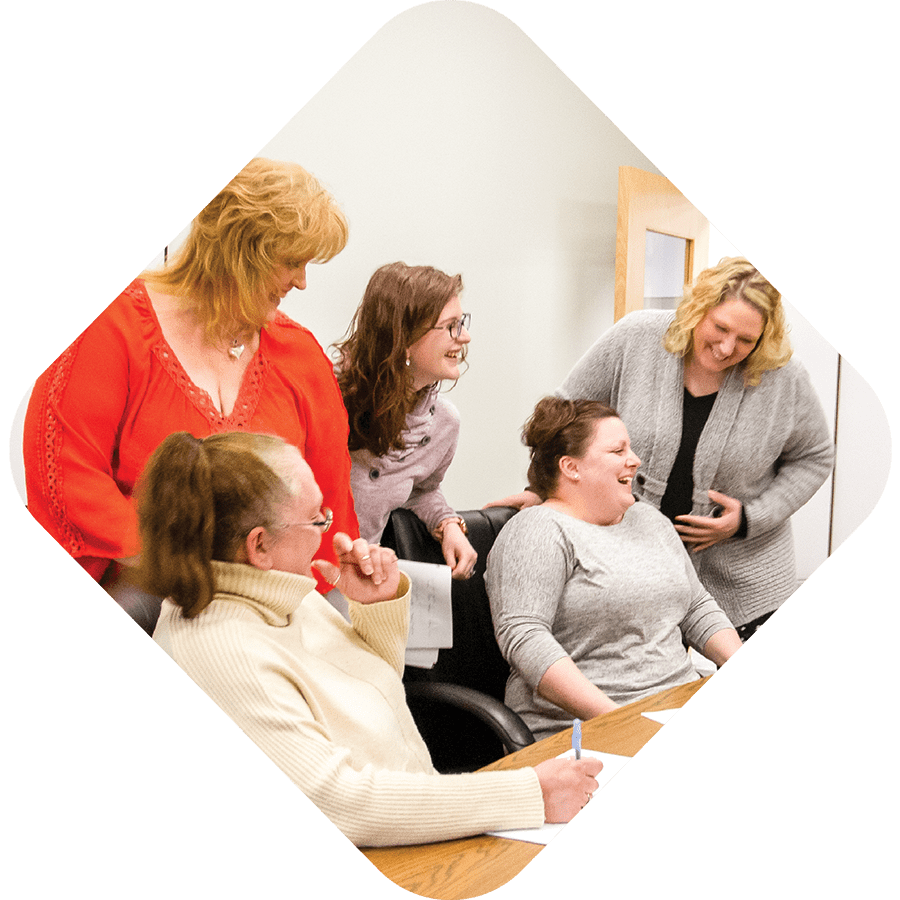 "We have a dedicated space for our team aptly named the 'Zen Room.' A quiet space (with recliners!) to relax, take a few deep breaths, clear our heads and come back to work refreshed."
"I like that they recognize birthdays, ask about our families, and appreciate our efforts. PMI is like a second family to me."
"I have the privilege of working for the past 27 years with business owners who are the epitome of what business owners should be. They bless my life and my family's lives."
"Payroll Management is great at what we do because of our team. They lean on and support one another and are what drives the company to be and do better. We're pretty big fans of our employees."
Our Current Openings
These are the positions we currently have open on the Payroll Management team. We're always looking for qualified team members so please reach out if you think you might be a good fit!
Tax Supervisor
Position Summary
The Tax Supervisor is responsible for insuring that all tax payments and filings are processed in a timely and efficient manner including Federal, state and local quarterly returns as well as W2s. This position is also responsible for tracking and responding to tax notices and processing amended/corrected returns.
Essential Duties and Responsibilities
The essential functions include, but are not limited to:
Make Federal, state and local tax payments on behalf of clients
Process quarterly and year end tax returns, including W2s
 Process corrected/amended quarterly returns
Research and resolve client tax notices
Support and contribute to a positive work environment that fosters a high level of team performance through own work and behavior
Maintain knowledge of payroll software system and changes in wage and tax laws
Maintain Client files in a confidential and secure manner
Research and resolve client/system problems
Establish and maintain a positive working relationship with clients, agencies and coworkers to promote quality service image
Display maturity in securely handling sensitive and confidential client and employee information
Other duties as assigned

Minimum Qualifications (Knowledge, Skills, and Abilities)
In-depth knowledge of Federal, state and local payroll tax laws

 

Prior experience handling payroll tax filings in multiple states

 

Prior experience processing payroll preferred Professional, driven, motivated self-starter

 

Knowledge of payroll software or ability to learn specific applications su

 

Reliable and dependable

 

Excellent telephone, communication and interpersonal skills

 

Detail oriented, well organized; high degree of accuracy

 

Proficient in Microsoft Office (Word, Excel, Outlook)

 

Professional in appearance and behavior

 

Ability to work beyond regular work hours when needed

 
Additional information about the company and work environment will be shared with candidates during an interview.
Account Manager / Sales – Bangor Territory, Portsmouth Territory, Nashua Territory
Position Summary
We're currently recruiting for three sales positions serving the Bangor, Maine area; Portsmouth, NH area; and Nashua, NH area. The Account Manager will be responsible for creating and building client relationships through referrals, networking, and cold calling within an assigned territory with the intent of providing payroll and human resources-related products and services.
Essential Duties and Responsibilities
The essential functions include, but are not limited to:
Identifying prospective clients by taking advantage of company support, following up on leads from existing clients, participating in organizations and clubs and attending trade shows and conferences
Assess prospective client needs and advise them on solutions that Payroll Management can provide
Attend vendor fairs and trade shows as designated by Sales Management
Attend networking events to promote Payroll Management and build relationships
Maintaining positive business relationships to ensure future sales
Work collaboratively with our marketing team to develop campaigns and follow up on leads
Consulting with clients after sales or contract signings to provide ongoing support
Minimum Qualifications (Knowledge, Skills, and Abilities)
Minimum of 3 years' prior business to business sales experience
Highly motivated with a proven track record in sales
Excellent selling, communication, and negotiation skills with a demonstrated ability to build and maintain relationships
Excellent prioritizing, time management and organization skills
Ability to create and deliver presentations tailored to the prospective client's needs
Professional appearance and demeanor
Ability to maintain confidential information
Must have reliable transportation
Additional information about the company and work environment will be shared with candidates during an interview.
 Apply Now!
If you're looking for a new career opportunity and are interested in joining the Payroll Management team, we'd love to hear from you. To apply for one of the positions listed, please send us your cover letter and resume.
Physical Demands and Work Environment
The physical demands described here are representative of those that must be met by an employee to successfully perform the essential functions of this position. Reasonable accommodations may be made to enable individuals with disabilities to perform the functions.
While performing the duties of this position, the employee is regularly required to talk or hear. The employee frequently is required to use hands or fingers, handle or feel objects, tools, or controls. The employee is occasionally required to stand; walk; sit; and reach with hands and arms. The employee must occasionally lift and/or move up to 25 pounds. Specific vision abilities required by this position include close vision, distance vision, and the ability to adjust focus. The noise level in the work environment is usually low to moderate.
Note
This job description in no way states or implies that these are the only duties to be performed by the employee(s) incumbent in this position. Employees will be required to follow any other job-related instructions and to perform any other job-related duties requested by any person authorized to give instructions or assignments. All duties and responsibilities are essential functions and requirements and are subject to possible modification to reasonably accommodate individuals with disabilities. To perform this job successfully, the incumbents will possess the skills, aptitudes, and abilities to perform each duty proficiently. Some requirements may exclude individuals who pose a direct threat or significant risk to the health or safety of themselves or others. The requirements listed in this document are the minimum levels of knowledge, skills, or abilities. This document does not create an employment contract, implied or otherwise, other than an "at will" relationship.

Payroll Management, Inc.
550 Center Street STE 1210
P.O. Box 1837
Auburn, ME 04211-1837