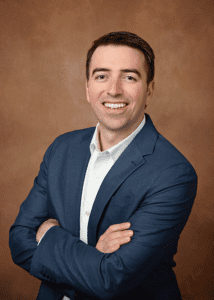 AUBURN, Maine—Payroll Management, INC. (PMI) is eager to announce the addition of Chief Operation Officer Ben Getchell. Ben brings enthusiasm, determination and extensive management experience to the PMI team.
"We are so excited to welcome Ben to our PMI Family," said Gary Hemenway, CEO. "We are very confident Ben's skills will bring a new level to our Client Services and Operations Departments.  We expect him to be a major part of our team as we continue to grow."
Ben Getchell earned his undergraduate degree from Dickinson College with a major in economics. His work history includes customer service, extensive management experience, and executing methodologies to improve operations without sacrificing quality. Prior to his move to PMI, Ben worked as Director of Service Operations at UNUM of South Portland, Maine.
"It's my job to look for the strengths of the organization and ensure we're set up to capitalize on them," said Ben Getchell. "I am thrilled to be part of a Maine company serving local businesses and the opportunity to build on Payroll Management's 30-year history of superior customer service."