July 25, 2019 – Auburn, Maine – Payroll Management, Inc., one of Northern New England's largest independent and family-owned payroll service firms, celebrated its 30th Anniversary and grand opening of its new corporate offices at 550 Center Street in Auburn by holding a ribbon-cutting ceremony and open house on Thursday, July 25th. The celebration was co-hosted by the Lewiston Auburn Metropolitan Chamber of Commerce and was attended by over 200 community members, employees, clients, business supporters, family and friends, as well as Senator Ned Claxton, Ryan Angelo from Senator Susan Collin's office, Marge Kilkelly from Senator Angus King's office, and Councilors, Alfreda Fournier and Leroy Walker representing Mayor, Jason Levesque, and the City of Auburn. The band, Horses Gone Wild, played some great country and rock music at the event, and there was plenty of tasty food and good conversation all around.
Payroll Management, Inc. was founded in 1989 by President and CEO, Gary Hemenway, and his wife, Chief Marketing Officer and co-owner, Elaine Hemenway. The company was originally located in small office buildings in Auburn until they moved into their Manley Road building where they remained over the next 20 years. During that time, they added many new services and employees, including their two sons, Gary, Jr and Chris, to the family business. As they continued to grow, in 2018 the Hemenway's secured space in the Auburn Mall to build their new corporate offices. The modern office space was designed by Architect, Michel Giasson, and built by R.L. Builders, and it features an open foyer, several office rooms, a huge cafeteria, two large conference rooms, a "quiet" room with three cascading waterfalls, a large distribution department and a central cubicle area with room to grow for their client services representatives.
2019 marks the 30th Anniversary for Payroll Management, Inc., so it made sense to combine this milestone celebration with the grand opening at the new location. At the core of the Hemenway's business philosophy for the past 30 years is their dedication to providing personalized service to their clients, and this commitment is not just a shallow marketing ploy. While adding updated online payroll entry and HR options as well as automated time and attendance solutions for their clients, the cornerstone of Payroll Management's mission is still to remain flexible to individual client needs and to make sure each client has a dedicated service representative to contact.
Payroll Management, Inc. provides payroll processing; payroll tax reporting and filing services; online payroll options; time & attendance solutions; Pay-As-You-Go Worker's Compensation and reporting; human resources services; labor law posters and many other services. For more information, please visit www.payrollmgt.com or contact Chris Hemenway, Sales Director at chemeway@payrollmgt.com
© 2019
---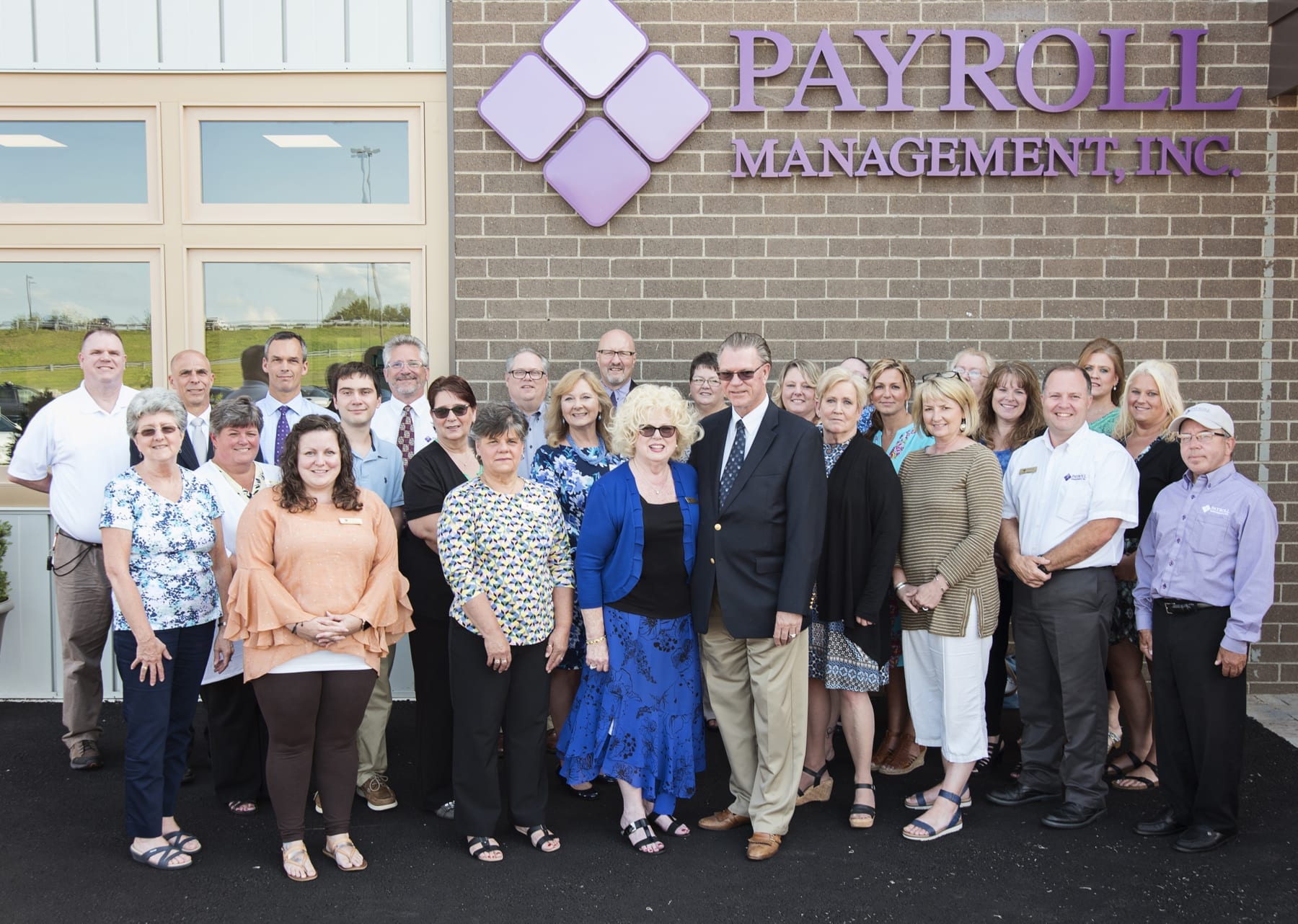 Employees of Payroll Management, Inc.. Photo by Creativeone's Photography