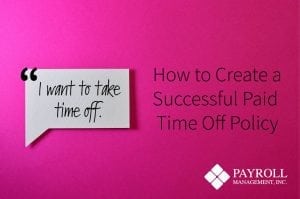 Studies show that the use of a paid time off, or PTO policy and programs have been steadily increasing since 2002. Employers primarily are making this transition because of the simplicity of plan administration. These programs use a bank-type system that gives employees a combined total number of days that can be used for vacation, sick, or personal purposes—as opposed to a traditional leave program, which separately allocates hours for vacation, sick time, and personal time off.
As with any leave program, or PTO policy, it's important to develop and maintain PTO procedures that clearly inform employees of your position on paid time off while meeting federal and state requirements.
Family Medical Leave Act
The Family Medical Leave Act (FMLA) does not require that employers provide paid leave. But it allows eligible employees to take unpaid, job-protected leave of up to 12 weeks per year for specific health and caregiving reasons. To qualify for FMLA, the employee must work at a location where the business has 50 or more employees within a 75-mile radius. Also, the employee must have been employed at the company for at least 12 months or have worked a minimum of 1,250 hours during the past 12 months.
State-Mandated Leave
Some states, such as California, New Jersey, and New York, have paid family leave laws. In a number of states, including California, Connecticut, Oregon, and Massachusetts, employers must provide paid sick leave. Other states, such as California, Illinois, and Louisiana, require that employers offer school and parental leave.
Antidiscrimination Laws
Your PTO policy should not violate federal and state antidiscrimination laws. For example, under federal law, it is illegal to discriminate against an employee based on his or her race, national origin, color, sex, age, religion, or disability when paying wages or providing benefits.
Other PTO Policy Inclusions
The policy should specify the following:
What PTO is composed of, including a combination of vacation, sick, and personal days
Which workers are eligible for PTO, such as full-time and part-time employees
How PTO is accrued, such as according to length of service and full-time or part-time status
In addition to these inclusions, the PTO policy should:
Explain the process for requesting PTO, including amount of notice required, minimum or maximum amount of PTO that can be taken at a given time, and the process for approving PTO.
Specify whether employees can roll over their PTO or whether they're allowed to cash it out. If allowed to cash out, include eligibility requirements.
State what happens to PTO when employees terminate. Be sure to check state law, as PTO payout upon termination is mandatory in some states.
Clarify the "use-it-or-lose-it" policy. Consult state law before implementing such a policy, because not all states allow this practice.
Describe the conditions under which employees can take paid versus unpaid leave.
Explain how PTO is handled from a payroll perspective if a holiday occurs during the time an employee is on paid leave.
Employers should carefully document the PTO policy, monitor federal and state laws for changes, and update the policy and employees, as needed.
© 2018
Not only does HR On Demand provide 24/7 access to HR experts, there to answer all of your HR questions, you may assemble an employee handbook with templates and the guidance and support of certified HR professionals.