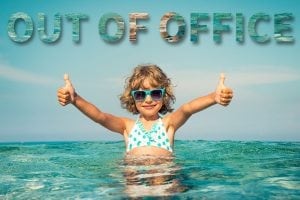 A 2017 survey by Glassdoor concluded that 91 percent of employees took some vacation in the previous 12 months, increasing from 85 percent in 2014. Despite this upswing, the average employee has taken only around half of his or her available paid time off in the past 12 months.
Research by Project Time Off found that 52 percent of employees had unused vacation at the end of 2017. Also, employees gave up an aggregate of $212 million in forfeited vacation days — that is, days they could not roll over or cash out.
According to the Glassdoor study, employees have a tendency to work while on vacation/PTO. The top motivations behind this behavior are:
Fear of falling behind on their work.
The belief that no one else can do their job.
Being fully committed to their employer.
Feeling incapable of disconnecting from their job.
These fears, while very real to the "work martyr," are actually unfounded, as not taking enough time off can have disastrous effects. According to Psychology Today, working too many hours can cause fatigue to set in, which may impact the employee's physical capabilities, concentration, decision-making abilities and memory, thereby derailing the quality of his or her work.
It's in every organization's best interest for employees to take sufficient time off from work. But since employees aren't always proactive in that regard, it's up to managers to encourage them.
Inform New Hires of the PTO Policy
Let your new hires know that the company provides PTO and that it's there for them to use. Refer them to the written company policy on how PTO is accrued and the approval process for requesting time off.
Remind Current Employees to Take PTO
Employees can become so steeped in their work that they forget they have unused PTO. If someone hasn't taken time off in a while, suggest that they do. Have someone else cover for the employee during his or her absence. If possible, push back deadlines, but make sure the employee will not be overloaded with work when he or she returns.
Encourage Team Support
Employees may be reluctant to pick up the slack when someone takes PTO. Help them realize that taking time off is essential to productivity and morale. Explain that supporting their colleagues who have taken time off will benefit the group in the long run.
Be Humane
If employees believe that you will support reasonable requests for PTO, they will feel more comfortable asking you for time off. Rather than making them feel guilty for taking PTO, show that you support their decision.
Discourage Working While on Vacation/PTO
The point of taking vacation is to fully recharge one's batteries away from work. Working while on vacation defeats this purpose.
© 2018