For all full-time employees, 7.6 is the average number of paid holidays in the U.S. Professional and technical staffers average 8.5 paid holidays, while clerical and sales employees average 7.7 paid holidays. Blue collar and service workers have, on average, seven paid holidays. The most common in the U.S. are: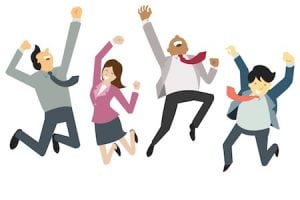 New Year's Day.
Memorial Day.
Easter.
Independence Day.
Labor Day.
Thanksgiving .
Christmas.
Additionally, many companies include:
Washington's Birthday/Presidents Day.
Good Friday.
Martin Luther King Jr. Day.
Veterans Day.
Columbus Day
Friday After Thanksgiving.
Christmas Eve and/or New Year's Eve.
A 2016 study of paid time off by the World At Work Association found that nine paid holidays was the norm in the U.S. Election Day is a day off when a president is being elected. Many firms also offer a floating paid holiday for employees to take as needed and that often is used to celebrate religious holidays or for a mental health day. Some companies let workers take off their birthdays.
Federal employees have an annual schedule of paid holidays established by the U.S. Office of Personnel Management: Martin Luther King Jr. Day, Presidents Day, Memorial Day and Independence Day. When a holiday falls on a non-workday — Saturday or Sunday — the holiday is usually observed on the closest Monday or Friday.
Paid holidays help attract and retain employees, and are often listed in an employment offer letter and appear in an employee handbook. Generally, there are no federal laws about holidays, although there may be state regulations.
Interestingly, the Fair Labor Standards Act doesn't require employers to pay workers for time not worked, such as holidays — holidays and pay practices (within legal guidelines) are determined by the owner. But employees expect paid holidays to accompany their employment. In fact, professionals, techies, managers and marketers are unlikely to accept positions in companies that don't offer paid time off for holidays. Senior-level employees often negotiate paid holidays as part of their employment package.
In general, hourly employees are less likely to have paid holidays or may receive fewer paid holidays than salaried counterparts. Part-time and temporary employees rarely have paid holidays. Contract employees or consultants don't receive paid holidays and don't expect them. (Regulations regarding payroll differences between exempt and nonexempt employees are complex; contact us for more details.)
Even companies that offer paid holidays may have jobs that need to be worked on holidays. This is a necessity or sometimes a choice for profitability in industries that serve customers 24 hours a day, seven days a week.
These would be:
Manufacturing when capacity and customer demand requires more hours.
Direct patient health care services, including nursing and emergency room.
Hospital food services.
Custodial services.
Retail establishments.
Restaurants.
Gas stations.
Drugstores.
Convenience stores.
Some technical and customer support positions.
Grocery stores.
On-call workers in physicians' offices, utilities and phone services may have to depend on a fair schedule to get celebrations and/or paid holidays off. But more often, as a reward for working the holiday, these employees often receive additional compensation in the form of time and a half or double time.
Knowing what your employees want is the key to a successful holiday schedule. To attract and retain superior employees, you need to stay close to or slightly above the norm to meet employee expectations for time off.