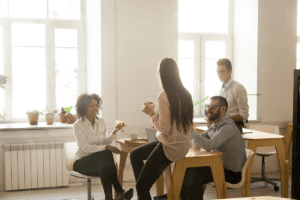 Under the Fair Labor Standards Act, employers generally do not have to provide short breaks or lunch periods to employees. However, the Act places restrictions on employers who choose to provide them. The FLSA also has guidelines for dealing with sleep time and breastfeeding breaks. Let's review these breaks individually.
Short Employee Breaks
These include coffee, snack or rest breaks that typically last anywhere between 5 and 20 minutes. The FLSA regards these breaks as paid time. Therefore, the time taken must be included in the employee's hours worked for the week and should be factored in when determining whether he or she worked overtime. Employees who knowingly use more than their allotted break time do not have to be paid for the unauthorized time taken. Regarding bathroom breaks, OSHA requires that employers do not impose unreasonable restrictions on restroom use and allow workers to leave their work locations to use a restroom when needed.
Employee Lunch Breaks
Lunch breaks or meal periods usually last 30 minutes or more. The FLSA does not consider meal periods as work hours — which means the time is unpaid and should not be included in the employee's hours worked. However, for the time to be unpaid, the employee must be completely relieved of all duties. Employees who are required to perform any duties during the meal period — for example, working while eating — must be paid for the lunch break.
Employee Sleeping Periods
Employers that allow employees to sleep while on duty for less than 24 hours must pay them for the sleeping period. If the employee's work shift comprises 24 hours or more, the employer and the employee can agree to exclude sleeping periods of up to 8 hours from the employee's time worked — provided certain conditions are met, as defined by the FLSA. This exclusion is permissible as long as there is an agreement between the employer and the employee.
Breastfeeding Breaks for Employees
The FLSA requires that employers give nursing mothers a reasonable amount of break time to provide milk to their nursing child for up to one year after giving birth. In addition, they must provide a private space for the employee to express milk. (Bathrooms do not count.) Employers are not required to compensate nursing mothers for time spent expressing milk.
State Laws on Employee Breaks
Many states have their own break criteria, which may be identical or similar to the FLSA or may differ considerably. For example, some states have lunch and rest break laws that are specific to minors. Further, some states have day of rest laws, which require that employers provide a day of rest to employees who work a certain number of days or hours consecutively. It's crucial that employers scrutinize federal and state laws when developing internal policies on employee breaks. This is doubly true for multistate employers. If both federal and state laws apply, the statute that favors employees the most takes precedence.
© 2019