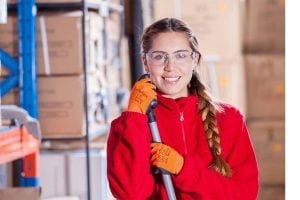 In 2016, the National Federation of Independent Business ranked workers' compensation as one of the most critical problems facing small businesses. Additionally, the National Academy of Social Insurance reported that employers spent a combined total of $94.8 billion in 2015 on workers' compensation, an increase of 20.1 percent since 2011.  It raises the question, how do you reduce workers' comp claims?
Every state, except Texas, requires workers' compensation. Consequently, most employers have a vested interest in reducing related claims and costs. Following are six strategies to accomplish this.
1. Identify Occupational Risks
If you're aware of the safety risks and hazards in your workplace, you will be in a better position to put corrective measures in place. This requires evaluating employee roles from a safety standpoint and implementing industry best practices.
Consider that certain occupations are more prone to injuries and illnesses than others, such as nonconstruction laborers, truck drivers, janitors, maintenance workers, nursing assistants, registered nurses, store clerks, and natural resource workers. Also, studies repeatedly reveal vehicle crashes, falls, assaults and violence, and exposure to dangerous substances or environments as the most common causes of workplace deaths.
2. Establish Sturdy New Hire Controls
According to a report by The Hartford, tenure is an important factor to reduce workers' comp claims, as "injury rates were 4–6 [times] higher for workers during their first month on the job." The risk of claims by inexperienced workers can be offset by developing stringent pre-employment controls, including skills and behavioral assessments, background checks, employment verification, and drug testing.
3. Embed Safety into Your Culture
Job applicants and employees should know from the get-go that safety is an integral part of your workplace culture. For example, your employee handbook should include acceptable conduct and a zero-tolerance policy toward workplace violence, so employees know where you stand on the issue. Also, improve your brand by promoting a healthy workplace to job seekers.
4. Provide the Proper Equipment and Training
Work-related injuries can be drastically abated by giving employees the gear they need, such as gloves, safety glasses, or steel-toed boots, to complete their work free of hazards. Along with being fully trained on how to use required tools and equipment, employees should receive periodic safety briefings.
5. Keep an Eye Out for Fraud
Workplace injuries are a serious matter and should be addressed promptly by the appropriate parties, including the employee's supervisor and the insurance company. Not all claims are legitimate, however, so always review claims for accuracy. If you suspect fraud, report it to the insurance company.
6. Outsource Workers' Compensation Management
Workers' compensation is an extensive area of employment law that can take a toll on your finances if improperly managed. As a result, many employers outsource their workers' compensation responsibilities to a third party that has the expertise needed to reduce claims and costs.
Contact us today for more information about how best to handle your compensation management.  Payroll Management provides Workers' Comp Pay-As-You-Go services, to manage your premiums while we manage your payroll.
© 2018